The tray mushroom cultivation system is often called Dutch, which is probably because most mushrooms in this country are cultivated on shelves. A full complex of equipment that maximally mechanizes the technological process of mushroom production using the shelf system is developed and patented in Holland. This is the equipment filling and emptying the compost from the shelves, machinery that applies the casing layer on the shelves and loosens it and devices for watering mushrooms and much more. Of course, such equipment is rather expensive and you can count on a farm's recoupment only if the mushroom yield from 1 m2 is high enough in the shortest periods of time possible.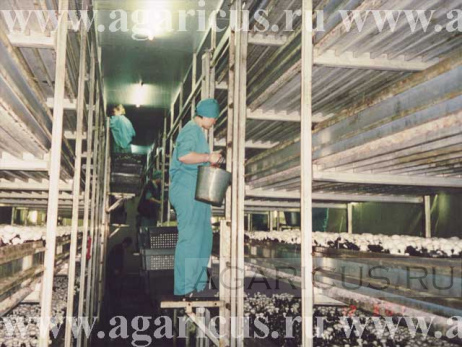 Cultivation on shelves
As for the advantages and disadvantages of this way of mushroom cultivation, the following can be said. Actually, the shelf system is the developed way of mushroom cultivation on beds, which allows a more rational use of the room's area and a complete mechanization of the production process.
Unfortunately, the disadvantages of the bed system, having to do with diseases and mushroom pests with some exceptions, concern the shelf system too. First, it's the spreading of diseases and pests throughout a shelf, and vertically also - extra water that streams down from the higher shelf containing pests and diseases can spread them throughout the lower shelves.