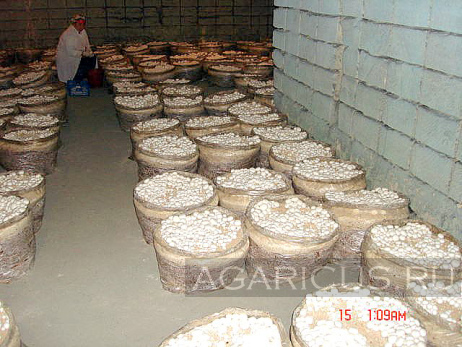 Using bags in duffers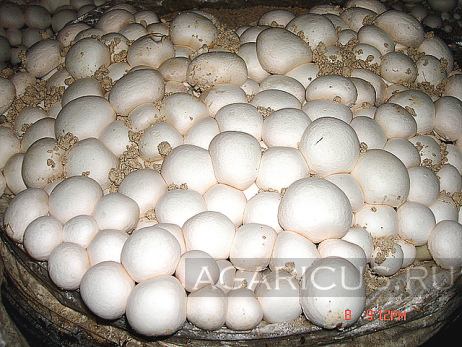 Using bags in duffers
This system is the most popular among small and average growers, who not only use empty suitable rooms (shafts, vegetable stores, poultry-yards, pigsties etc.), but also rooms which are especially built for mushroom cultivation. It's best cultivating mushrooms in bags on farms, where it's impossible using steam to treat used compost in a room for mushroom cultivation.
Using bags requires less fund investments compared to shelf and container systems.
One of the basic advantages of the bag system is the possibility of more effective pest and disease control. By using bags it's easier to locate pests and diseases (an infected bag can be closed and taken out at any moment). At the same time, using multi-stands under the bags coupled with a big layer of compost in the bags increases the effectiveness of room area use for mushroom cultivation compared to using beds.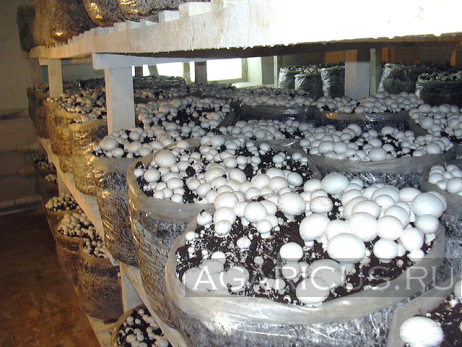 The bags on the shelves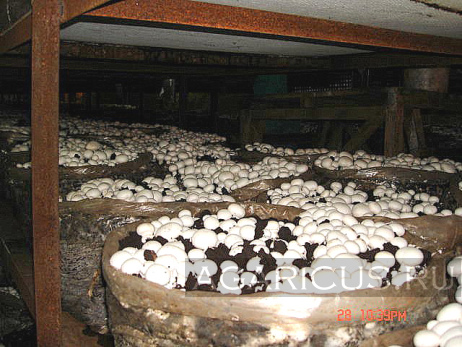 The bags on the shelves
The disadvantages lie in a big amount of hand labour when placing the compost into the bags (especially when there's no special equipment), carrying and setting the bags in their place and when applying the casing layer on the compost when it's overgrown with mycelium. It also needs to be said that it's rather hard to use supplements on this compost.
The technological properties of using a bag system include: the importance of the amount of compost in the bags, the proper filling process and the bags' dimensions.