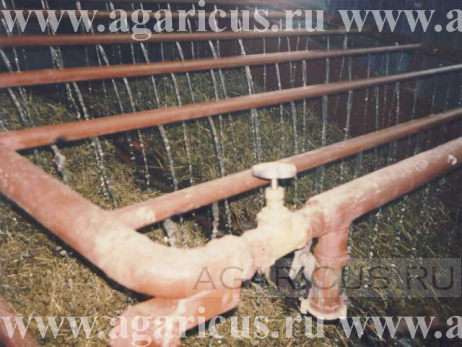 The irrigation of straw at compost filling
The preparation of pressed straw starts from loosening the bales and retrieving the pack threads, which are used to press the straw. The pack treads which have not been retrieved, wind around the rotating parts of the machinery used and can damage this machinery. If the straw was rolled into reels, it has to be unrolled. In case of using short composting in phase 1, the straw has to be grinded. To uniformly and thoroughly wet the straw, it has to be laid into a layer uniform in height and thickness. The amount of straw in the layer depends on the technical capabilities of recycled water transmission.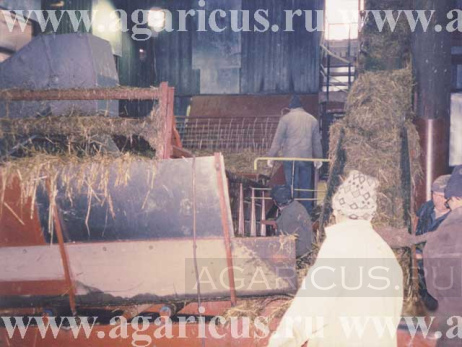 Compost filling
Usually, in the technology of compost preparation, which we use, all these operations are carried out in the same place and time. For that, a line is created, which not only allows to unite the previous operations, but to apply the poultry manure right away, subsequently mixing it with a moist mass of straw and laying it in a cone of optimal dimensions.
Watering the straw at compost filling is the only situation, where the more water, the better. It is impossible to flood the mass of straw, which passes through the line, to an anaerobic condition. Moreover, the added dry poultry manure takes a part of water for itself. The situation that is most likely to occur, is that there wouldn't be enough water in the straw, and the obtained mixture of straw and manure is too dry, which will negatively affect the compost's activity beginning. The optimal humidity of that mass is 68-75%. The further 1st phase compost watering should be handled with care.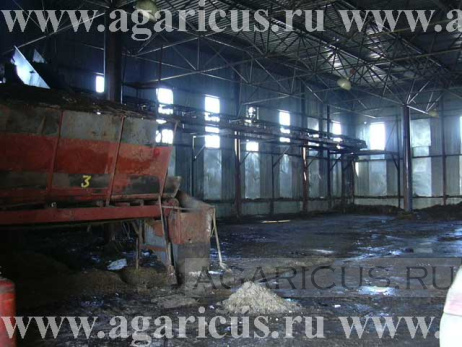 The equipment used for compost filling
It's easy to flood active compost, especially when the air temperatures are low. It's impossible to correct the situation, and the further work with this compost is hard.
To create a line for compost filling, the most modern foreign machinery along with the domestic agricultural technology can be used. It all depends on the volume of the necessary amount of compost and the abilities of the person interested in doing this job.