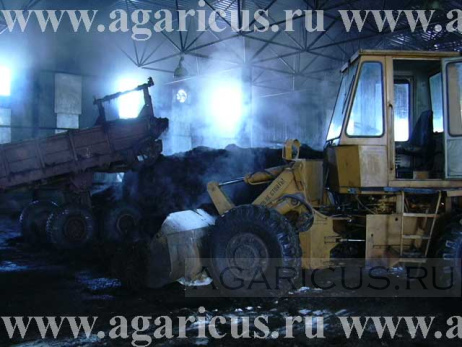 The mixing of compost
Unfortunately, the great thickness of compost in piles, which has a good influence on the compost's work, has its own disadvantages. One of them is the negative balance of oxygen supply in the compost mass, that is, there's more oxygen used than supplied from outside. This leads to the formation of anaerobic conditions in the compost, which negatively affect the compost's quality. There are two ways to solve this problem — direct perflation of the compost mass with air (bunker system of the 1st phase composting), or throwing the compost from one place to another. The second way is spread in Russia for the time being. The compost is mixed in different ways, from an ordinary pitchfork, to the most perfect blenders that cost more than one hundred thousand dollars.
At the same time, a question occurs — how often should the compost be mixed? This might depend on the intensity of the use of oxygen inside the compost mass, or in other words, on the process' course intensity. In practice, compost is mixed everyday or once every few days. A schedule of works in the compost house helps determine how often mixing should be carried out, and it also depends on the chosen compost preparation technology.