The process of the preparation and application of casing layer should be carried out according to the sanitary code and hygienic regulations (see the "Sanitation and Hygiene" section).
The time for the casing layer to be applied should be determined by a sufficient stage of mycelium growth in the compost, and that is 14-16 days after spawning.
Before the application of casing mixture, the quality of mycelium growth in the compost is determined by sight, and the presence of problem areas should be checked (that is, black areas that haven't grown with mycelium, and that are affected with diseases). The affected areas are treated in one way or another, depending on the kind of disease.
If the condition of the compost is favorable, the casing layer is applied to it. Per 1 m? of the area of compost, 25-32 kg of casing mixture is applied, the layer's thickness is 4-6 cm depending on the kind of casing layer. The specific weight of the casing layer depends on the quality and the humidity of the material that is being applied.
The optimal layer thickness is 5 cm, this kind of layer holds a sufficient amount of water and creates a favorable microclimate for mushroom growth.
It's very important for the casing layer to be uniform in thickness and consistence. After the casing layer is applied, it is loosened, (after that, the casing layer thickness can reach up to 7 cm) or/and leveled, which increases its consistence a little. Loosening with consequent leveling of the mixture ensures a uniform casing layer thickness everywhere on the surface of compost. It's important to level the layer to ensure a uniform mycelium growth and a better humidification of the casing layer. These measures protect the casing layer from a so-called «spillage», that is, the passage of water to the compost at watering time, and the formation of a water layer between the casing soil and the compost, and they will also prevent the formation of «forecrops» – the pins that are began their formation too early.
At leveling the casing layer by hand, it shouldn't be made too thick, and the clumpy structure shouldn't be destroyed. A slight packing of the casing layer's surface after it's been leveled stimulates the vegetative mycelium growth.
It's important to remember, that a thin casing layer and its low moisture capacity worsens the quality of mushrooms. If the casing layer's moisture capacity is low, it should be watered more often. This delays the formation a wave, and leads to a worsening of the mushrooms' quality: in color and appearance. If the mushrooms are watered to often, it can lead to an occurrence of bacteriosis.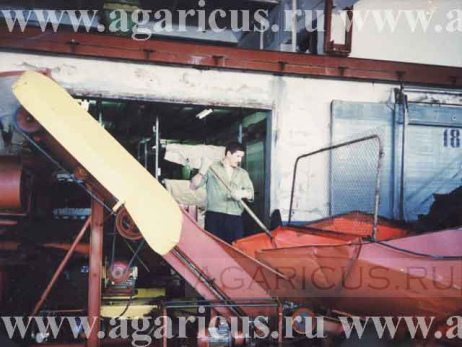 The application of casing with the use of machinery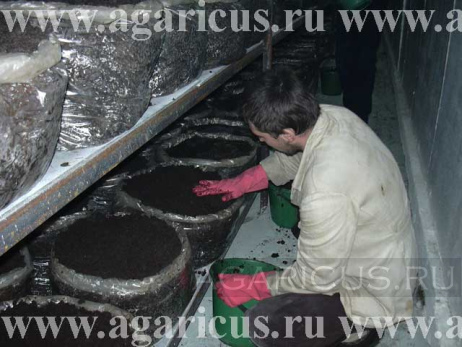 The application of casing layer by hand