Scopulariopsis fimicola, anamorfic
Thick, fluffy white plaster mold spots (or flour mold), can appear on compost and on the casing layer surface. For some time, the edges of this fungus remain white and fluffy, but the middle of the spots gradually becomes powdery, and it seems like flecks of plaster or flour on the casing surface.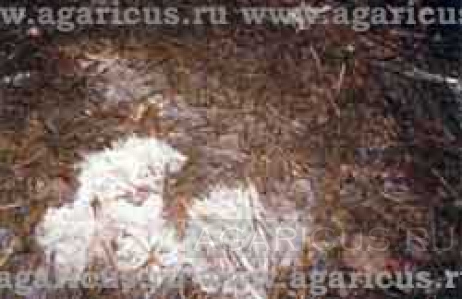 White plaster mold in the compost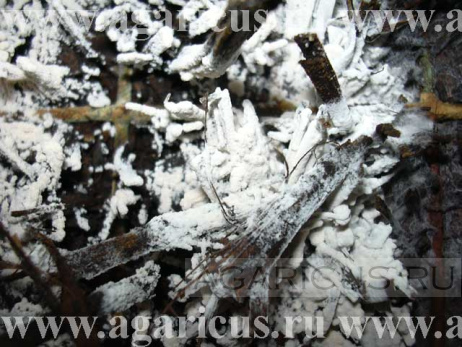 A type of white plaster mold at magnification
That is how the spores of the mold form, becoming pink in color as they develop. In time, the spots become yellow-brown in color, and on this stage, the white plaster mold can be confused with yellow mold.
Today, white plaster mold is rarely seen, but its appearance can cause a mushroom yield reduction, hence this mold is a mushroom competitor and it uses the same nutrients as mushroom mycelium.
It's impossible to control white plaster mold, so all efforts must be used in order to avoid its appearance.
White plaster mold develops in compost which was not prepared according to the composting technology, and during fermentation, in overly humid and sticky compost, there were anaerobic areas, and the pH level remained too high. Plaster molds grow more vigorously at a pH level of 7.5-8, and the mushroom mycelium, at the pH level of 6.5-7.
Aside from the incorrect compost structure, the white plaster mold can develop because of a disruption in the process of fermentation and compost conditioning, and it is also transferred from old, infected parties to the new ones, when the rules of sanitation and hygiene are not complied with.
If you want to escape problems with the yield caused by white plaster mold:
Use proper technology of phase 1 compost preparation, check the amount of applied water and gypsum and the quality of turning (mixing);


Maintain the temperature conditions at pasteurization and compost conditioning;


Don't use overly humid and sticky compost for spawning;


Comply to the sanitation and hygiene regulations, hence the poorly washed and untreated shelves or containers and other implements can become a source of infection in new batches.