A mushroom grower can find the nidus of green mold on beds where casing layer has been applied not long ago, and on old fructiferous beds.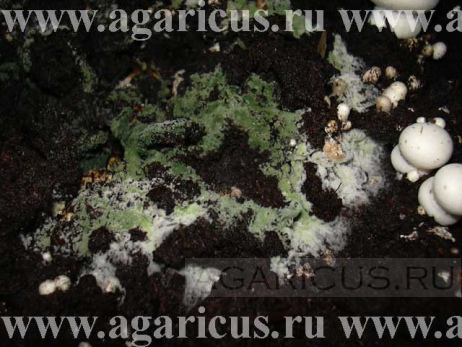 Green mold on the casing layer
The mold usually colonizes organic materials such as dead mushroom mycelium, dead pins and stipes that were left from cut mushrooms. Generally, the green molds grow on beds that are in poor condition and not cleaned thoroughly.
Green mold appears on the casing surface because of poor ventilation, high humidity and a pH level lower than 7.3.
The disinfection of the casing layer with a formalin solution of a high concentration or its steaming also promotes the development of trichoderma.
In order to prevent the appearance of green mold or keep it from spreading:
be careful at adding supplements before applying the casing layer, especially if the compost is not grown with mycelium well enough;


make sure that the casing layer's pH level is high enough, that is, higher than 7.5;


don't use too much formalin when disinfecting the casing soil while it's being prepared;


for the preparation of the casing layer, use clean raw materials, in which undecomposed wood tissues do not exist;


Conduct an active ventilation of the growing room from time to time, in order to lower the humidity and CO2 levels, avoid stagnant, moist air;


Keep the beds clean, regularly remove dead pins and remaining mushroom stipes;


Some mushroom growers recommend strewing the areas of casing layer affected by trichoderma with salt or sodium bicarbonate (backing soda). Try to identify the mold and treat the affected areas on an early stage, before a great amount of spores develops.