Trichoderma, Aspergillus, Penicillium, Cladosporium etc.
There are many kinds of green molds, which the mushroom grower can come across in his practice, especially if sanitation isn't maintained on his farm, and the technological operations aren't carried out properly.
The spores of these fungi are widely spread in the casing layer and organic matter in various environments. They can be easily carried by wind, insects or mites, personnel on any inventory and equipment that is used on the mushroom farm. Rats and mice that feed on mycelium on the surface of compost can also carry the disease.
Green fungi can grow on wooden equipment, in compost, in the casing layer, and even on poorly prepared mycelium grains.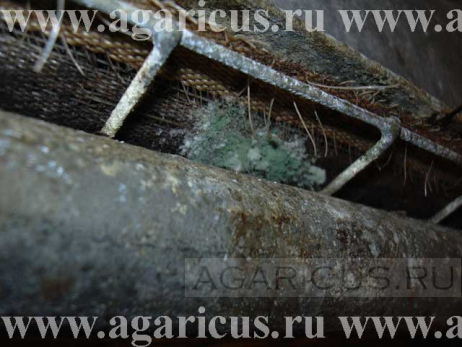 Green mold on an underlying cloth
The conditions for the growth of different species are not the same, and the optimal temperatures range from 22 to 26°C.
The level of mushroom yield loss depends on the kind of mold, the degree of infection and the volume of spreading across the farm. The control of green molds, like the control of any other molds, is purely preventative in nature, and that is why all attention must be directed at the prevention of its appearance.
Let's examine some cases of an infection of a mushroom culture with green molds and the possible methods to prevent their appearance and spreading.