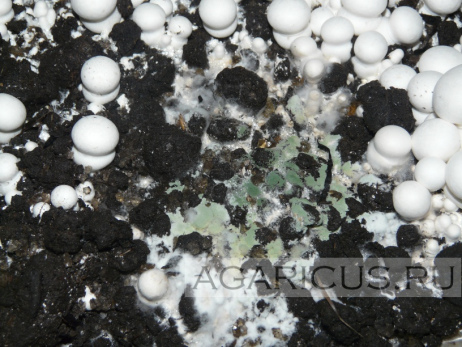 This picture shows one of green molds, species of Trichoderma.
Its difficult to say what species is in mater, because without of microscopically examination, is not possible to distinguish, what species of mold it is.
Anyhow, presence of Trichoderma, in compost can make great lost of mushroom production. Especially when is Trichoderma harzianum in mater.
Trichoderma's mycelium growing, during incubation of mushroom mycelium, until
compost became overgrown by mushroom mycelium. Because in full incubated compost Trichoderma does not growing.
Because of this, the most dangerous faze in mushroom growing, is period of end of pasteurization, after that, beginning of Faze II, beginning of Faze III. During this period of time, Trichoderma can infected compost and can start to growing.
Infection in this fazes, is very dangerous, because if Trichoderma start to growing in compost in bags, or in blocks, there temperatures are higher, and it promoting growing of Trichoderma.
Often, compost producers, gives responsibility of Trichoderma infections, to buyers, when they has mushrooms production lost, and explain to them that infection is consequence of bad sanitation, or lack of hygienic measures on mushroom farms.
But, if we consider infection of Trichoderma, in period of spawning, or mycelium incubation, with infection in period of mushroom fructification, we will see, that lost of mushrooms are slight bigger, in first part than, appearance of infection in period of spawning and incubation.
Trichoderma appearance in compost is consequence of bad quality of compost, and disbalance of C/ N , when this relation is around 20, at the end of pasteurization of compost, end of Faze II).
Appearance of anaerobic products during composting in fazes 1 and 2, will be followed by appearance of Trichoderma, in compost. During anaerobic fermentation of compost
are produced and accumulated materials, what became food for Trichoderma: succinic acid , lactic acid, tartaric acid.
Analytical control of compost, and quantitative analyses of these acids, can give us, possibility to prevue possibility of Trichoderma appearance in compost.
If pH value, in compost is low, this can be indicator, about Trichoderma appearance in compost.
If Trichoderma is present in compost in many growing cycles, regardless of very good hygienic measures, and very good sanitation, in the clean zone, and tunnels, and where is spawning zone. But if this you see Trichoderma in compost, be sure, that this picture can be made in your compost.